Roughnecks:
Starship Troopers Chronicles
The much anticipated animated series "Starship Troopers", dropped onto the airwaves on August 30, 1999.
Shown on the Sci-Fi Channel, Monday through Thursday's (4:30am PST, 7:30am EST).
Shown on some local TV stations, Monday through Friday's at 7:30am PST.
Shown in Canada on "Teletoon" and in the U.K. on "Sky-One".
Working title: "Starship Troopers: Bug Wars"
Air title: "Roughnecks: Starship Troopers Chronicles"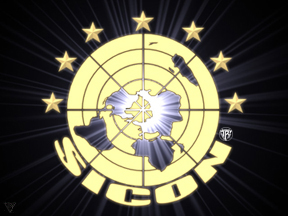 Please visit TrooperPX: "The Worlds Most
Complete Starship Troopers Reference Collection"

Free counters provided by Honesty Communications.



Roughnecks: Starship Troopers Chronicles Webring
[ Previous 5 Sites | Skip Previous | Previous | Next | Skip Next | Next 5 Sites | Random Site | List Sites | Join Webring ]
Webring graphic designed by Mr. Hook
Copyright © 1998~2002 David Ramsay, All rights reserved.
All other trademarks and copyrights are the property of their respective owners.

All rights reserved.
No infringement is intended or desired.
No images may be captured, copied, reproduced or used with out permission.
All images and information contained herein are Copyright their respective owners.
The contents of these pages, is Copyrighted by TrooperPX, as an artistic expression.
This is fan web-site and is intended solely to promote everything Starship Troopers.