The Worlds Most Complete Starship Troopers Reference Collection
Starship Troopers 2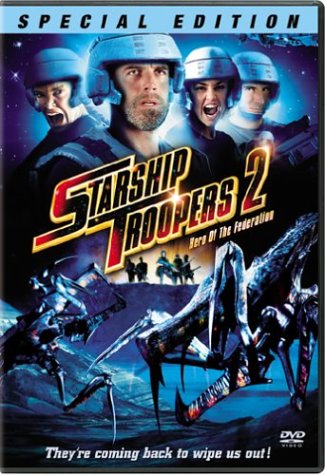 Official Starship Troopers 2 Website
http://www.sonypictures.com/starshiptroopers2
Synopsis:


In this rapid-fire sequel to the cult favorite, the Federation's best Mobile Infantry unit goes back into action against the Bug horde. But this time, the Bugs are waiting for them. Trapped on a remote outpost light years from the nearest reinforcements, a small group of soldiers fights an enemy smarter and more cunning than any they've ever faced. Now they must join forces with an infamous traitor to the Federation if they are to have any hope. And it's not just their lives at stake, it's the survival of the human race. If they want to live, they'll have to use their heads before the Bugs do! Academy Award® winner Phil Tippett (1994, Best Visual Effects for Jurassic Park), one of the greatest visual effects wizards in movie history, makes his directorial debut.

DVD Features:

- Inside the Federation - Making of Featurette

Exclusive interviews with Writer, Director, Producer, Production Designer, DP, Executive Prod, SFX supervisor and Ensemble Cast, Set B-roll including visit to the set by SFX guru Ray Harryhausen and his Walk of Fame ceremony and of course clips from the film.

- From Green Screen to Silver Screen Featurette

A Visual and Audio SFX tour by special effects supervisor Eric Leven featuring multi-layer, process of creating Digital Visual Effects - from conception storyboards to shoot on the set to post production to the silver screen.

- DVD-Rom link to Starship Troopers PC Game Demo!

- Commentary

Director Phil Tippett, Writer Ed Neumeier and Producer Jon Davison.

- Photo Gallery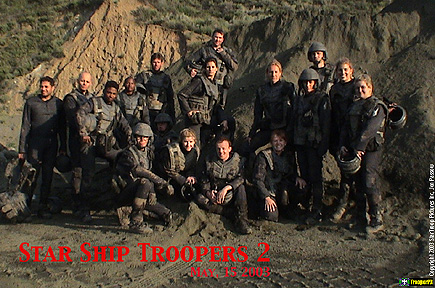 Back to the Starship Troopers Main Index

---


Free counters provided by Honesty Communications.
Copyright © 1998~2010 David Ramsay, All rights reserved.
All other trademarks and copyrights are the property of their respective owners.

All rights reserved.
No infringement is intended or desired.
No images may be captured, copied, reproduced or used without permission.
All images and information contained herein are Copyright their respective owners.
The contents of these pages, is Copyrighted by TrooperPX, as an artistic expression.
This is fan web-site and is intended solely to promote everything Starship Troopers.