TrooperPX: The Worlds Most Complete
Starship Troopers Reference Collection.

Starship Troopers 2




Image Gallery:

Background extras family portrait... and Jon Passow as Lt. Spears.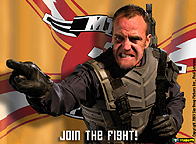 First official photo released by Paul M. Sammon.
Richard Burgi as Captain Dax.
"Phil Tippett Directs Starship Troopers 2"
Phil Tippett, Tippett Studio founder and veteran visual effects supervisor, began directing STARSHIP TROOPERS 2, May 15th, on location in Los Angeles. This much awaited sequel teams Tippett with his long time collaborators, producer Jon Davison and screenwriter Ed Neumeier, with whom he worked on the original STARSHIP TROOPERS and ROBOCOP. "I have always had tremendous respect for Phil's talent and felt a great personal debt to him for the extraordinary work he did on both RoboCop and Starship Troopers", said Neumeier. Based on an original story by Tippett and Neumeier, this direct to video production stars Billy Brown, Richard Burgi, Kelly Carlson, Cy Carter, Sandrine Holt, Ed Lauter, J.P. Manoux, Lawrence Monoson, Colleen Porch, Drew Powell, Ed Quinn, Jason-Shane Scott, and Brenda Strong.
<<< Director Phil Tippett (right) lines up a shot with Special Effects Supervisor Michael Lantieri (left) and
cast member Cy Carter (back to camera) who plays Billy Otter, while on location in Santa Clarita, CA.
>>> Colleen Porch as Pvt. Lei Sahara takes aim at the enemy in STARSHIP TROOPERS 2.
This production marks Phil's first time behind the camera as the director on a feature length movie. Years of experience on his own shorter films, and with other master directors, support him well for the challenge. Working alongside Phil is Tippett visual effects supervisor, Eric Leven, charged with the tough task of realizing Phil's vivid imagination on the screen. Shot production at Tippett Studio begins in late June and continues through the Fall. A veteran team of Tippett Studio artists and craftsmen is being augmented by talented graduates of the Ex'Pression Center for New Media in Emeryville, CA. Special thanks goes out to Rose Duignan, Ex'Pressions Director of Career Development for helping recruit these recent students to our team. More updates and photos from the set soon!

http://www.tippett.com/studio/news.html

Fan banners and poster concepts.
---


Free counters provided by Honesty Communications.
Copyright © 1998~2003 David Ramsay, All rights reserved.
All other trademarks and copyrights are the property of their respective owners.

All rights reserved.
No infringement is intended or desired.
No images may be captured, copied, reproduced or used without permission.
All images and information contained herein are Copyright their respective owners.
The contents of these pages, is Copyrighted by TrooperPX, as an artistic expression.
This is fan web-site and is intended solely to promote everything Starship Troopers.