TrooperPX: The Worlds Most Complete
Starship Troopers Reference Collection.

S.F.3.D Original
Ma.K. ZbV3000 Maschinen Krieger

ZbV3000 Ma.K. Maschinen Krieger
The first Nitto kit was re-produced in February 1999.
(Nitto, after years of wrangling with Hobby Japan over copyright, has recently reissued the SF3D line
of kits under the Maschinen Krieger name. The actual kits are identical to the previous SF3D releases.)

These items are injection-plastic kits of a science-fiction/anime item.
They require both cement and painting to complete or use.
---
1/6-Scale Kits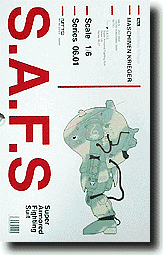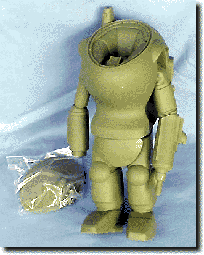 S.A.F.S (Super Armored Fighting Suit) NIT25122


The assembled kit next to a 12" G.I.Joe Action Figure.

Fireball. (NiC)
---
1/20-Scale Kits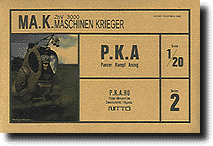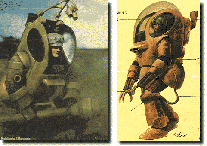 P.K.A (Panzer Kampf Anzug) NIT24083 (NiC)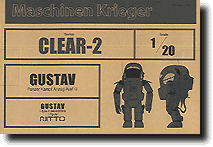 Gustav Clear Version NIT20002 (NiC)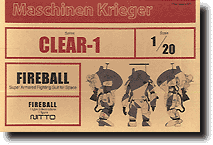 Fireball Clear Version NIT20001 (NiC)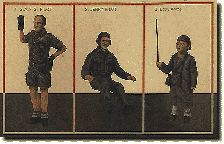 Figure Set 1 (Mercenary Troops) NIT25124 (NiC)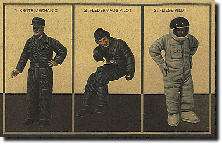 Figure Set 2 (Shutoral Forces) NIT25125
---
1/76-Scale Kits
If you cannot find these kits locally, we recommend visiting the following sites:
Search Rainbow Ten under "English - Today's Inventory List - Charactor - Nitto" for availability.
Search Hobby Link Japan under "Company - Nitto - Sci-Fi" for availability.


(http://www.hlj.com)


Free counters provided by Andale.
Copyright © 1998~2003 David Ramsay, All rights reserved.
All other trademarks and copyrights are the property of their respective owners.

All rights reserved.
No infringement is intended or desired.
No images may be captured, copied, reproduced or used with out permission.
All images and information contained herein are Copyright their respective owners.
The contents of these pages, is Copyrighted by TrooperPX, as an artistic expression.
This is fan web-site and is intended solely to promote everything Starship Troopers.

S.F.3.D Original © Copyright 1982~1985 Hobby Japan/Kow Yokoyama
Ma.K., ZbV3000 Maschinen Krieger, © Copyright 1998~2003 Kow Yokoyama