TrooperPX: The Worlds Most Complete
Starship Troopers Reference Collection.

Armored Fighting Suit

Uchû no Senshi
(Japanese Animation 1988)

It is the opinion of TrooperPX, this is the best rendition of powered armor, or "jumpsuits" yet.
If you have not seen this anime series, we strongly reccomend you track down a copy.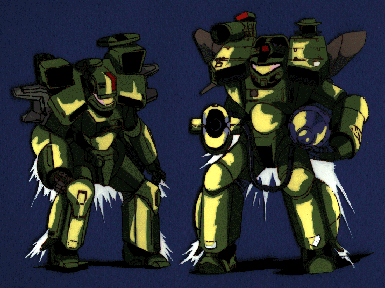 Original cel from the Japanese anime version of Starship Troopers.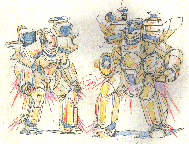 ... and it's matching pencil.

Color Manga (comic) for the Japanese Animated version of Starship Troopers.
Released by Studio Nue in 1988, as six episodes over three video movies.
| | | |
| --- | --- | --- |
| Blueprints: front and left side. | Top and bottom. | Blueprints: right side and back. |
Here is the "Powered Suit" we all know and love.

A 3/4 view, in motion, and using it's jumpjets to ascend and descend during a "bounce".

Technical drawings showing the open cockpit, and how the standard machinegun was operated.







Free counters provided by Honesty Communications.
The contents of these pages, is Copyrighted by TrooperPX, as an artistic expression.
The images and information contained herein are Copyright their respective owners.
No images or text may be captured, copied or used with out permission.
Starship Troopers © Copyright 1959 Robert A. Heinlein
19xx publication by Signet. 19xx publication by Ace.
Uchû no Senshi (Starship Troopers Anime) © Copyright 1988 Studio Nue.
Uchû no Senshi (Novel) © Copyright 19xx Hayakawa Publishing.
Madox-01 © Copyright 1987 AIC/Fujisankei
A.T. VOTOMS © Copyright 19xx by xxx
S.F.3.D Original © Copyright 1982~1985 Hobby Japan/Kow Yokoyama
Ma.K., ZbV3000 Maschinen Krieger, © Copyright 1998~2001 Kow Yokoyama

Starship Troopers (the Movie) © Copyright 1997 Sony/Tri-STar.
Starship Troopers (Trading Cards) © Copyright 1997 Inkworks
Roughneck Joe © Copyright 1997~2001 David Ramsay.
Roughnecks: Starship Troopers Chronicles is a registered trademark of Adelaide Productions, Sony Pictures Entertainment, Columbia Tri-Star Television and the Bohbot Kids Network, © Copyright 1999.
Starship Troopers: Terran Ascendancy © Copyright 2000 Microprose, HIUK and Blue Tongue Software.

No infringement is intended or desired.