Visitor
since command given to TrooperPX
Free counters provided by Honesty.com.


News:
February 20, 2001
From the R. Lee Ermey mailing list:
Join me, R. Lee Ermey for a LIvVE chat this Sunday, February 25th from 6:00 - 8:00 PM CST. He will be giving away all types of autographed memorabilia! Click on this link to SIGN UP
http://secure.ibill.com/cgi-win/ccard/rscookie.exe?RevShareID=4vv213869&returnto=http://www.4anything.com/corporate/Livve/livve
or copy and paste it into your browser. If you have any problems signing up, please let us know.

Semper Fi,
R. Lee Ermey
---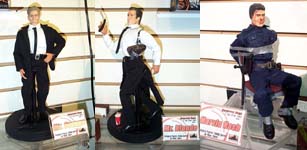 For more great Toy Fair 2001 coverage, check out Figures. That is where I found the above images of the new Palisades Marketing 12" Reservoir Dogs figures, and also learned that the initial assortment is to include Marvin Nash.
---
February 19, 2001
I could spend several pages writing an article to cover all of the incredible new release coming out this year, or I could just tell you to go check out Action Figure Times' great 2001 Toy Fair coverage. I think I'll do the latter. Looks like this is going to be an incredible year to get every figure you ever desired, and go broke in the process.
---
February 15, 2001 - Updated Twice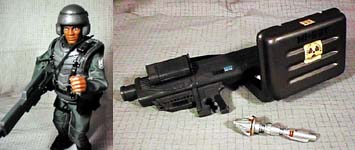 I have discovered that as ALIENS fans have a reason to rejoice at EVA Models' line of 1/6 scale USCM armor and equipment (Scroll down to see the news story from February 7), now Starship Troopers fans have reason to rejoice as well.

Trooper PX has created a line of 1/6 scale Starship Troopers MI armor and equipment dubbed Roughneck Joe. This is a line that started as a project for friends, and has developed into an actual product. Slated to be included in the line are three versions of the Morita rifle, Nuke Launcher, AmmoPak, ComPak, BDUs for MI troopers, DI's and fleet, MI armor, and a Nuke Suit. There are a lot of really nice detail pics on the site, and this looks to be a promising line for Starship Troopers fans in particular and 1/6 scale modelers in general.
Would you like to know more? - Sorry. Couldn't resist.
---
Palisades Marketing has announced that they have reached an agreement with Artisan Entertainment to produce 1/6 scale figures of the characters from Reservoir Dogs. Set for a spring release, the first series is set to include Mr. Blonde (Michael Madsen), Mr. Orange (Tim Roth), Mr. Pink (Steve Buscemi), and Mr. White (Harvey Keitel). There will also be a special edition DVD of the movie released this fall for the film's anniversary.
---
| | |
| --- | --- |
| | And if that's not enough for you, one more movie is making it's way into the 1/6 scale market. Eklyps is offering 1/6 scale 2001: A Space Odyssey spacesuits from Twinch Squad. Available in red, silver, and yellow, they are incredibly detailed, but they will run you $150 each or $410 for the set of three. |
---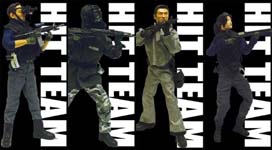 Voyager Toys has received in the new Hit Team figures from Dragon Models. This is a series of four 1/6 scale figures based on a movie "Black Ops" team. Picture an Asian version of the ill-fated Soldier of Fortune television series.
---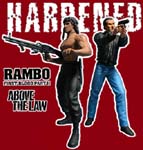 N2 Toys has started shipping the new The Matrix Series 2 figures. Included in the line are Tank, Mr. Anderson, Trinity "Fly Kick", Sentinel, and Neo & Agent Smith 2-Pack. They have also posted a preliminary image of the first two releases from their new series dubbed Hardened. This series will consist of licensed figured from Action movies. The first two release will be Sylvester Stallone from Rambo: First Blood II and Steven Seagal from Above the Law. There is also an image of the new Interceptor vehicle for the Mad Max: Road Warrior line.
---
ReSaurus has announced that the second series of their 6" Special Forces line will consist of Marine Force Recon (Desert Storm), 75th Ranger, Delta Force #2, 82nd Airborne, and Ranger Boat Patrol. They have also announce several additions to their Speed Racer line, including the long awaited Shooting Star with exclusive Racer X figure.
---
McFarlane Toys has announced some incredible news as well. There will be a second series of Metal Gear Solid figures, this time based on the new Metal Gear Solid - Sons of Liberty game. This series is to be composed of six figures including Solid Snake, Olga, and Revolver Ocelot. Their new Movie Maniacs Series 4 will include some awesome selections. The new lineup includes 2 versions of the T-1000 (Terminator 2), the T-800 (Terminator 2), Evil Ash (Army of Darkness), Candyman, Blair Witch, and Jason (Friday the 13th X). There will also be an 18" Ash (Army of Darkness) with sounds, an 18" Leatherface (Texas Chainsaw Massacre) with sounds, and a Jaws boxed set. I just hope that Movie Maniacs Series 5 will include Seth Gecko (From Dusk Til Dawn), and Hicks, Vasquez, Hudson, an Warrior ALIEN, and the ALIEN Queen (all from ALIENS), and Dutch, Blain, and the Predator (all from Predator).
Also from McFarlane Toys, Clive Barker's "Tortured Souls" series will feature 6 Cenobite-esque figures designed exclusively for the line (not for the timid). New additions to the series of Rock stars will include Kid Rock, Eminem, Jerry Garcia, and Jim Morrison. Other upcoming series include Spawn Series 19 & 20, Ultima Online, Shrek, Ratfink, and 3D Anime Series 2.
---
Normally, I would not make mention of the Links section. I update it on an almost daily basis, so it goes without saying that there are new links, but there are two things I thought worth mentioning.
First, I have reformatted the Collectibles and Sci-Fi Movie Guns portions of the Links section. They were getting rather large and unwieldy as single pages, so I have broken them down into categories. In order to make it easier for you to find what you are looking for, some links appear on multiple pages, if they make products or have subject matter that fits into multiple categories.
Second, N2 Toys, maker of Martix and Mad Max: Road Warrior figures, finally has their own web site. In addition to seeing information about new and upcoming products, you can also buy figures directly from them.
---
February 14, 2001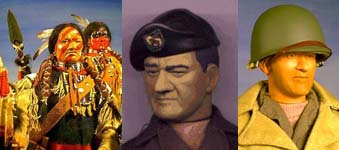 If you're looking for something different to collect in 1/6 scale, check out Dog Soldiers. He specializes in Plains Indians and Calvary subject matters. He offers complete figures as well as parts. Among his complete figures are a Northern Cheyenne Warrior ($40) and an Elk Soldier ($375, $450 with War Pony), shown above at left. Among his other offerings are several resin custom heads for 21st Century Toys or G.I. Joe bodies, including The Veteran ($15 unpainted, $20 painted), above center, and The Captain ($15 unpainted, $20 painted), above right.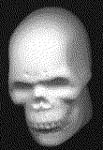 One of his most interesting offerings is something he calls "Skully". Yes, it is a 1/6 scale skull, and it is available in two models. The first version is an actual scale resin skull ($8) that can be used to model your own custom heads over the top of, by "skinning" it with clay. He also offers Skully in a kit ($15) that includes that includes Skully, Magic Sculp (a two-part epoxy putty), and a modeling guide. You can also purchase extra Magic Sculp ($8) from him. The other version of Skully ($10) is slightly larger so it can be used as a head itself on 21st Century Toys or G.I. Joe bodies. This is a nice option if you want to do a fantasy, or sci-fi figure, such as Ghost Rider or even the Grim Reaper himself.
Thanks to Ron Meyer for the tip about this great link.
---
February 12, 2001
CORRECTION!
For those of you who may have already visited the site today, it appears that I have had a bout of hysterical blindness, and was unable to read my own news blurbs. The Monsters in Motion AEG AirSoft ALIENS Pulse Rifle listed below does not use a Tokyo Marui SPAS-12 for the grenade launcher. It uses a Maruzen Remington M870. My apologies for any misunderstandings. The article below has been fixed to reflect the correct information.
---
| | |
| --- | --- |
| | Asia Pacific has some images of the new Long Bow Specialized Gun 16 in their New Products section. |
---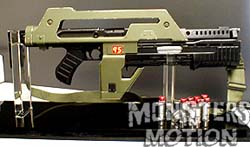 Monsters in Motion is advertising an AEG AirSoft ALIENS Pulse Rifle for $3000. This is a special order situation, and you can expect about 6 weeks for delivery. The following is an excerpt from their site.

This is a fully functional "AirSoft" version of the M41A Pulse Rifle as seen in the movies. This AirSoft gun fires full auto or in semi-auto mode. The grenade launcher fires 3 GMM BBS with each pump and trigger pull. It even has a working digital counter, which counts down each time the gun is fired. Stock can be extended or retracted and the rifle includes a removable 19ORD magazine and a sling. The Pulse Rifle is based on the electric Tokyo Marui M4A1 Thompson machine gun and the gas operated Maruzen Remington M870 shotgun, it even uses real Franchi Spas-12 parts just like it's real counterpart.

It says they are using the Tokyo Marui Thompson M1A1 for the base gun. I am using this in my project as well. It is a good heavy replica, and should stand up well to use. It also says they are using the Maruzen M870. I intend to use this myself, but have so far been unable to lay hands on one.

Disclaimer: In order to avoid any misunderstanding, let me say this. I have never dealt with this company, and do not know anyone who has seen the actual item or who is building the actual item. Simply put, this may be a great deal, the price certainly seems to be in line with what I would expect, but as I would say with any item of this price, understand what you are getting into.
---
February 09, 2001

Win a full copy of LightWave 6.5 and Aura 2!
With LightWave 6.5, NewTek has made a concerted effort to address the create a real relationship with game artists and meet their particular needs. To further that, they have announced a contest for 3D game art and content. The winner will receive a full commercial copy of LightWave 6.5 and Aura 2. The entry deadline is March 9, so hurry get your submissions in now. That's $3300 worth of software. Learn more about it here.
---
Wizard World has an article reporting that, as part of the Time-Warner/AOL merger, all of the Warner Brothers Studio Stores will be closed. Some of the higher profile stores in New York and Los Angeles have already closed. Some others are already clearancing their merchandise, and all stores are to be closed by January 1, 2002. I have been to one of the stores already clearancing, and this includes everything. They are even selling the store fixtures and decorations.
This will be the last chance to get many of the items they have available, such as the DC Comics beanies and statues. The Warner Brothers website will only be selling movies, CDs, movie posters, and some electronics. Most all of the collectibles available through the stores will cease production.
---
For anyone in the area, I have discovered that there is now an AirSoft team in Houston, TX called Silent Knights.
---
February 08, 2001
| | |
| --- | --- |
| | If you have not seen RB Graphics' incredible firearm illustrations yet, you're really missing something. These are some of the most beautiful technical illustrations I have ever seen. In addition to an already extensive line of available prints, some near future releases include SIG Pistols, History of The Assault Rifle, and 21st Century Small Arms (two prints). |
---
| | |
| --- | --- |
| | You've probably seen AirSoft BBs sold in clear plastic grenades before. Although these are a cool novelty item, up until now, they've been little more than that. However, Redwolf AirSoft now has some new ones that are actually finished to look like the real thing. Available in two styles, they are a convenient way to carry a large amount of spare ammo, and have a great looking accessory for your gear. |
---
February 07, 2001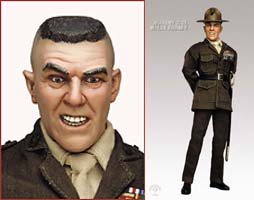 R. Lee Ermey is quite possibly the coolest actor of all time. He usually plays a Marine Corp Drill Instructor, and for good reason, since he was one. You may remember him from movies such as Apocalypse Now, Siege of Firebase Gloria, Full Metal Jacket, Se7en, Space: Above and Beyond (Pilot Episode), and his voice in Toy Story I&II. Well, now you can have your own 12" talking version of the legend. Visitors to his official site can sign up for an e-mail list that will let you know as soon as the figure is released, and all figures purchased through the site will be autographed. Definitely a must-have for any collection.
---

EVA Models has released several new items in their ALIENS: United States Colonial Marines line of accessories for 12" figures. Among them are a new sculpting of the Pulse Rifle (PR02) for $20, heads of Vasquez and Hicks (HV01) for $20 per pair or $12 each, USCM M56 Smart Gun Kit (M5601) for $90, a helmet kit (HK01) for $20, and a buckle set (BS01) for $8. If you were disappointed by the Hicks vs. ALIEN 2-pack that Kay-Bee had, this is your answer. I don't see how it would be possible to have a more accurate figure than what you could assemble from this site.
---
February 01, 2001

Voyager Toys has received in the new Dragon Models 1/6 scale:
71048 M82A1 .50 Cal Semi-Automatic Rifle "Urban"
This set includes the Barrett M82A1 with "v" flash suppressor (as seen in Robocop), as well as a revolver and a shoulder holster.
71049 M82A1 .50 Cal Semi-Automatic Rifle "Camo"
This set includes the Barrett M82A1 with standard flash suppressor (as seen in Navy SEALs), as well as a semi-auto and a drop-down holster.
originally mentioned in this site's January 22, 2001 update.
---
| | |
| --- | --- |
| | Fandom Shop has received the new 6" The Matrix Neo / Agent Smith 2-Pack figures from N2 Toys. This package features Neo and Agent Smith posed in their subway gunfight, and comes with a special stand to suspend them in mid-air. SKU: TYMATNSTP is $17.95 plus shipping. |
---
Let me clarify one thing quickly. I asked if anyone knew the origin of the side-by-side sawed-off shotgun Mel Gibson used in Mad Max. I have received some responses, and thank you to those of you who have done so. However, apparently my request was a bit unclear. I know that it is a side-by-side sawed-off shotgun. I know that Hudson made a gas-powered AirSoft replica. What I want to know is what manufacturer and model was the original firearm used to produce the prop seen in the movie. If you know the answer to this, please let me know. I am going to attempt to start putting together a database of what firearms were used in different movies, and this is one I don't know. Thanks.
---
To see news from previous months, please visit the Archives.
Sci-Firearms.com Poll
What is your price limit when purchasing a replica?

37.1%
Up to $100.

23.3%
Up to $250.

17.5%
What's a limit?

9.1%
Up to $500.

7.7%
Pay?

5%
Up to $750.
Total Votes: 296
Poll It v2.0 by
CGI World