TrooperPX: The Worlds Most Complete
Starship Troopers Reference Collection.

Video Games & Mods
Quake 2 Mod, 2002
"Roughnecks: Operation Pest Control"

Everything shown here are actual film-used props from the 1997 film STARSHIP TROOPERS.
The contents of TrooperPX is part of a single private collection. None of these items are for sale.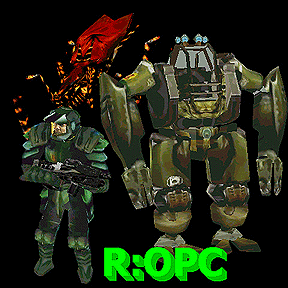 Welcome to WeByte Productions' new Quake 2 Mod.
http://www.planetquake.com/webyte/rough/

Special thanks to Grim, MaxxJag and Togukawa.
Hi, I'm just letting you know that the ROPC mod for Quake2 has now become
standalone, and is still in its early alpha stages. We hope to have a
playable public release out as soon as possible, but I can't say when that
will be. Anyways, we are back on track, ROPC is being worked on yet again.
This mod is about Roughnecks: Starship Troopers Chronicles or Starship Troopers: Bug wars (for the UK and other parts), a hit TV show.

We are in the year 2078, and vicious bugs have attacked Earth. What looked first as a small pest to control, developed into a full scale intergalactic war. Humanity does not give up, and fights back. The MI, Mobile Infantry have to try and stop the invasion, and try to stay alive while doing so. Facing overwhelming odds, and having to fight on hostile planets, the humans use powersuits and highly advanced weaponry. Make no mistake, the bugs shred the powersuits apart in no time. Of course, the bugs won't go away quietly, and many species are just waiting to kill a trooper. In our mod, you are one of the troopers, that have to save humanity from total obliteration.

If you want to know more about the mod, please stop by their forum:


From the back drawer of the designers desk come the concept sketches and
artwork that shaped the CG-series Roughnecks: Starship Troopers Chronicles.



Check out Artwork: Bugs and Artwork: Weapons



Featuring full-page versions of:
C.H.A.S., Drop Suit, Drop Ship, MI Power Suit, Morita Rifle & Retrieval Ship.


Return to Video Games & Mods Index
---


Free counters provided by Honesty Communications.
Copyright © 1998~2004 David Ramsay, All rights reserved.
All other trademarks and copyrights are the property of their respective owners.

All rights reserved.
No infringement is intended or desired.
No images may be captured, copied, reproduced or used without permission.
All images and information contained herein are Copyright their respective owners.
The contents of these pages, is Copyrighted by TrooperPX, as an artistic expression.
This is fan web-site and is intended solely to promote everything Starship Troopers.