This page is dedicated to the brave men and women defending freedom...
...who also happen to be Starship Troopers fans!


Roughnecks at Fort Knox, 2003.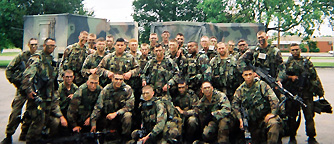 Roughnecks at Fort Drum, NY, 2002.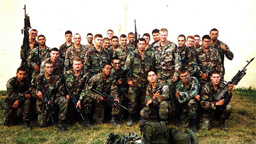 Roughnecks at Fort Polk, LA.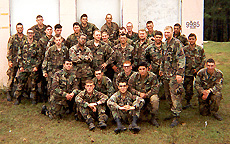 | | |
| --- | --- |
| | |
---
A ground deployed, flamer unit from the 101st PACkeRs (101st Powered Armor Combat Ready Division), attached to an M.I. Squad of 8 to 10 Troopers. Armed with a flame-thrower and two rocket pods. Tanks filled with an undisclosed flammable liquid mixture are mounted on the back; feeder hoses lead to the pressurizing mechanism. This MR-9 flamer has an effective range of 300-feet (...that's the length of a football field!). Attached to each side is a pod firing 35 micro-rockets each with a range of roughly 4km. They can rotate 65º in either direction to assist in trajectory targeting.



For more info on the KSA, click HERE.

Continuing the legacy Roughneck Joe, a project originally started back in 1997 shortly after the movie Starship
Troopers came out. Here is my patriotic homage to our Armed Services stationed overseas. This "Desert Trooper" is sporting the new desert camo BDUs that were issued to our forces in the late 90's.

---
A shout-out goes to...
SPC Justin G. Blodgett
Platoon RT
2nd PLT C Co, 2/87 INF, 10th MTN DIV (LI)

And for the civilian impared, that would translate to:
Specialist Justin G. Blodgett
Platoon RTO (Radio-Telephone Operator)
2nd PLatoon C Company, 2nd Battalion, 87th Infantry Regiment, 10th Mountain Division (Light Infantry)

Blodgett's tattoo. A classic design with a new twist. Not bad eh?


Original film-used stencil.
(Shown acuual size)


The tattoo is prepped, loaded...

...and sent to Johnny.

The "Fab-Four" display their new wares: Johnny, Ace, Dizzy & Kitt.


My own MI "Death From Above" Tattoo. Make yours using "Real Body Art" inks!
(Check out them pale guns!)
Victory Banner (designed by Citizen Dave) for the Roughnecks.

---


Starship Troopers reference collection index


Roughneck Joe action figure index



Free counters provided by Honesty.com.

Copyright © 1998~2004 David Ramsay, All rights reserved.
All other trademarks and copyrights are the property of their respective owners.

"Roughneck Joe" and "S.S.T.3.D-Original" © Copyright David Ramsay 1997~2004.
All rights reserved.
No infringement is intended or desired.
No images or text may be captured, copied, reproduced or used with out permission.
All images and information contained herein are Copyright their respective owners.
The contents of these pages, is Copyrighted by TrooperPX, as an artistic expression.
This is fan web-site and is intended solely to promote everything Starship Troopers.