TrooperPX: The Worlds Most Complete
Starship Troopers Reference Collection.

Multimedia
Audio Book

Everything shown here are actual film-used props from the 1997 film STARSHIP TROOPERS.
The contents of TrooperPX is part of a single private collection. None of these items are for sale.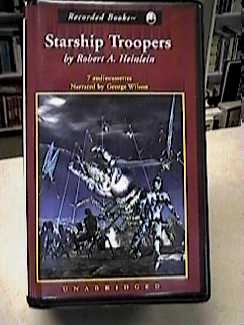 Fiction on Cassette, Unabridged, Recorded Books, Inc.
©1987, rereleased 1998
# 95398 (7 cassettes/9.75 hours)
1-(800)-638-1304

Starship Troopers by Robert A. Heinlein. Narrated by George Wilson. Hailed as one of the greatest science fiction writers of all time, Robert A. Heinlein pens fast-moving, action-packed tales. In this thrilling best-seller, he fast forwards to a controversial future world where law and order are harshly enforced, and only the ex-military can gain citizenship.
Right out of high school, Johnny Rico enlists in the elite fraternity on the Mobile Infantry of planet Terra, once known as Earth. After weeks of the dangerously rugged bootcamp, Johnny is looknig forward to some rest and relaxtion. But when horrifying communist aliens attack Terran colonies, the entire human race becomes engaged in a terrifying struggle for survival.
Starship Troopers is acclaimed as a science-fiction classic and has been made into a popular motion picture. Intergalactic war and daring invasions explode from the pages with narrator George Wilson's dramatic performance.
1998 Second pressing avaliable for rental and sale.
Recorded Books, Inc.
270 Skipjack Rd.
Prince Frederick, MD 20678
Recorded by arangement with Virginia Heinlein c/o
Spectrum Literary Agency, ISBN 0-7887-2023-6

---


Free counters provided by Honesty Communications.
Copyright © 1998~2002 David Ramsay, All rights reserved.
All other trademarks and copyrights are the property of their respective owners.

All rights reserved.
No infringement is intended or desired.
No images may be captured, copied, reproduced or used without permission.
All images and information contained herein are Copyright their respective owners.
The contents of these pages, is Copyrighted by TrooperPX, as an artistic expression.
This is fan web-site and is intended solely to promote everything Starship Troopers.