TrooperPX: The Worlds Most Complete
Starship Troopers Reference Collection.

Mobile Infantry
Rations & Pouch

Everything shown here are actual film-used props from the 1997 film STARSHIP TROOPERS.
The contents of TrooperPX is part of a single private collection. None of these items are for sale.
This is the Mobile Infantry accessory pouch that holds a Lemon Cake MRE (a compressed "pound-type" cake molded into a solid brick). Worn at the left shoulder on the chest of the MI armor. Got Milk?
This pouch is virtually unchanged as it appeared in SST from the 1990 Eagle Industries stock. This pouch mounts with two horizontal military slide clips and closes using Eagle's positive tension release system with silent hook. In 1992 they decided to move the two drain hole eyelets from the side (as seen in SST) to the new version of one eyelet on the bottom center and two vertical military slide clips. This is the First-Aid/Utility Pouch (AP-U).
Rations Pouch (Set-1)
| | | |
| --- | --- | --- |
| Mounted on armor | Rations Pouch | Back |
| Bottom | Open | Empty |
| | Lemon Cake | |
Eagle Reference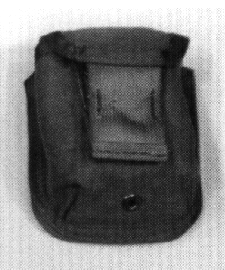 Eagle Industries AP-U
Film Reference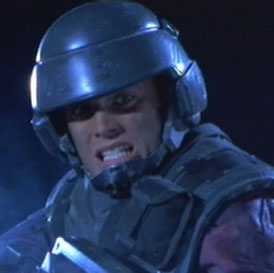 Rico's rations!
Rations Pouch (Set-2)
| | | |
| --- | --- | --- |
| Rations Pouch | Back | Bottom |
| Open | Empty | Lemon Cake |
Return to Mobile Infantry Index
---


Free counters provided by Honesty Communications.
Copyright © 1998~2002 David Ramsay, All rights reserved.
All other trademarks and copyrights are the property of their respective owners.

All rights reserved.
No infringement is intended or desired.
No images may be captured, copied, reproduced or used without permission.
All images and information contained herein are Copyright their respective owners.
The contents of these pages, is Copyrighted by TrooperPX, as an artistic expression.
This is fan web-site and is intended solely to promote everything Starship Troopers.