TrooperPX: The Worlds Most Complete
Starship Troopers Reference Collection.

Mobile Infantry
Morita

Everything shown here are actual film-used props from the 1997 film STARSHIP TROOPERS.
The contents of TrooperPX is part of a single private collection. None of these items are for sale.
The Morita was a combination of two working arms. The top, rifle mechanism was (add)... The lower, shotgun portion was (add)... Heroes had three different versions they carried around. The fully functional (add)... The fiberglass shell that could take an actual clip (add)... And the foam "stunt" version (add)... The Fleet version was simply a cut-down MI Morita. The shotgun "pump" was cut off, and the muzzle flash suppresser was moved back (add)...
Morita w/ Pump Action

Held
by figure


Foam


Detail 1


Detail 3


Fiberglass


Fiberglass Shell


Detail 4


Detail 5


Firing Morita
in action!

NiC


Firing Morita
w/ clip

NiC


Magazine
detail

NiC


Firing Morita
center

NiC


Firing Morita
action

NiC
Film References 1



Ah... a child and an automatic weapon.
Is there no moment more special?


Detail of the pump-action.


Detail of the receiver.


A shot of Sugar's Sniper Morita.


Sugar takes aim...

Film References 2


Let's compare excessive muzzle flash...


Johnny's Morita flash.


Ace's Morita flash.


Carmen's Morita flash.

"Alternate" Uses

The Morita rifle never looked so good...

Actual Weapons

Dave Uhe from Tucson, AZ writes,
"For your readers who might be interested...

After looking at the pictures on this page, looks like the full size Morita rifle was made using a Ruger AC-556 and an Ithaca 37 short barrel shotgun.

The Ruger AC-556 was a full auto version of the Mini-14 rifle marketed mostly to police departments during the 1980's. Easy to identify, by the receiver picture and the magazine. The shotgun is an Ithaca Model 37 with short barrel. Notice the angled metal projection in front of the magazine tube, just below the barrel.

Enclosed pictures of the real firearms, from the www.ithacagun.com and www.ruger-firearms.com websites.

Lastly, a 3rd party vendor called MWG makes a plastic clamshell stock for the Mini14 called the Muzzlite Bullpup stock. Somewhat similar look to the fleet Morita carbine, used in the film Total Recall. Regards,"

Film References



Detail of the clip.


Statistics on the ammunition were never established,
(but a hex-wrench jammed into a Mini-14 brass is a good guess).


A real military flash suppresser was used on the firing Moritas.


Blank Rounds



Arnie's Airsoft - Morita Project

For more information, please visit Arnie's Airsoft main page and click on "Projects".
Battlefield Sports - Morita

Australian outdoor Lasertag company features a "Morita" in their arsenal.

For more information, please visit their main page and click on "Weapons".
Fan-Made Morita Kit
From the C. Adrian Collection, "www.goldenarmor.com".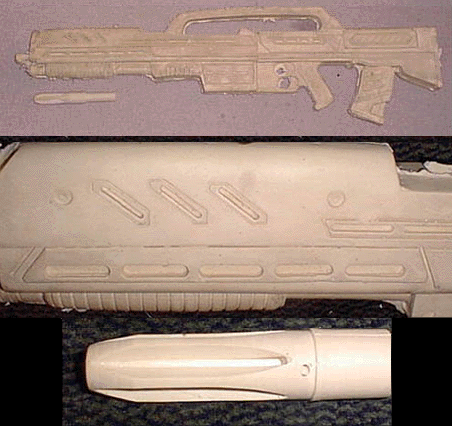 NiC
Fan-Made Morita
Finished fiberglass Morita. Note diferent muzzle. (add)...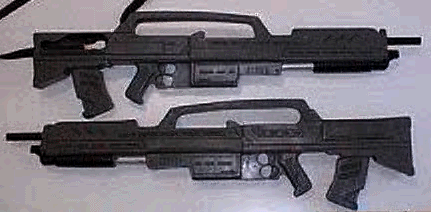 NiC
Return to Mobile Infantry Index
---


Free counters provided by Honesty Communications.
Copyright © 1998~2002 David Ramsay, All rights reserved.
All other trademarks and copyrights are the property of their respective owners.

All rights reserved.
No infringement is intended or desired.
No images may be captured, copied, reproduced or used without permission.
All images and information contained herein are Copyright their respective owners.
The contents of these pages, is Copyrighted by TrooperPX, as an artistic expression.
This is fan web-site and is intended solely to promote everything Starship Troopers.