TrooperPX: The Worlds Most Complete
Starship Troopers Reference Collection.

Fleet
Helmet

Everything shown here are actual film-used props from the 1997 film STARSHIP TROOPERS.
The contents of TrooperPX is part of a single private collection. None of these items are for sale.

At the last minute, Paul Verhoeven decided he needed some Fleet Helmets. A few Mobile Infantry helmets were taken aside and modified. This included building up the front brim with a heavy plate... theoretically to house a drop-down visor. Looked convincing though not functional. The ear screens received larger housings, similar to modern-day Air Force helmets.
To my knowldge, only three were made: One prototype, one for Zander and one for Carmen.
There were also two "space" helmets made, that never saw action.
Fleet Helmet Prototype
Made by Prop'er Effects.
NiC-RP
Male/Adult Fleet Helmet
This is one of two Fleet helmets made for the film. Here we see the cool, tinted visor in place.
Like the Mobile Infantry helmets... the visor was removed for filming.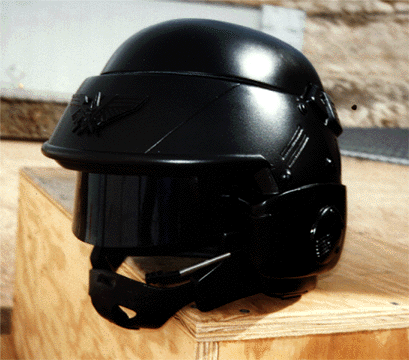 NiC
---


Free counters provided by Honesty Communications.
Copyright © 1998~2002 David Ramsay, All rights reserved.
All other trademarks and copyrights are the property of their respective owners.

All rights reserved.
No infringement is intended or desired.
No images may be captured, copied, reproduced or used without permission.
All images and information contained herein are Copyright their respective owners.
The contents of these pages, is Copyrighted by TrooperPX, as an artistic expression.
This is fan web-site and is intended solely to promote everything Starship Troopers.