GAMES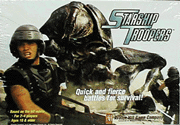 Avalon Hill first came out with a Starship Troopers game back in 1976.
Radio Shack came out with a video game in 1982. Then AH renovated and
re-issued a "Movie" version of their board game in 1997 to correspond with
the theatrical release. Microprose released their much-anticipated
PC computer game, of Starship Troopers!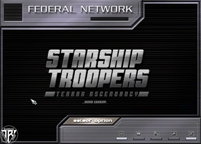 Yes, the video game...

Free counters provided by Honesty Communications.
Copyright © 1998~2001 David Ramsay, All rights reserved.
All other trademarks and copyrights are the property of their respective owners.

All rights reserved.
No infringement is intended or desired.
No images may be captured, copied, reproduced or used with out permission.
All images and information contained herein are Copyright their respective owners.
The contents of these pages, is Copyrighted by TrooperPX, as an artistic expression.
This is fan web-site and is intended solely to promote everything Starship Troopers.