"Starship Troopers Accumulation Compulsion Syndrome"©
S.T.A.C.S. is something I came up with for myself and the other collectors I met on-line. There were several of us "Citizens" who collected props, etc., and fought for stuff on eBay. It later evolved to include those "Honorary Members" who have made major contributions to Starship Troopers projects (like R:STC, the PC game, etc.) and/or donated content to this website. For some, I have created an area for them to showcase part of their collection.
---
Members of S.T.A.C.S. will receive a signed and numbered
Citizenship certificate. (Citizen certificates may vary in appearance
depending on when you were processed.)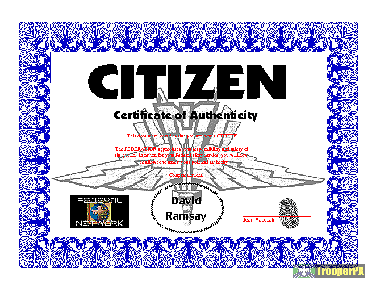 Current S.T.A.C.S. Citizens
2953 - Bolin, Mike

2941 - Day, Robert*

2947 - Dixon, Steve

2967 - Bas

2956 - Gove, Christopher

2964 - Heath, Andrew*

2958 - Isler, Russell*

2940 - Johnson, Kimberly

2955 - Keller, Malaki*

2943 - Kensinger, Bob

2949 - LeBrilla, Carlos*

2957 - Loter, Steve

2944 - Malone, Lee

2945 - Neisen, Steve

2963 - Paden, Audu*

2954 - Pancake, Regina*

2969 - Passow, Jon

2946 - Radler, Steve

2939 - Ramsay, David

2966 - Roberts, John

2968 - Rosen, David

2951 - Shindler, Mark

2950 - Thoms, Joel*

2960 - Trout, Shawn*

2948 - Truitt, Tony

2965 - Van Dien, Casper

2961 - Voss, Kenneth

2959 - Wendlick, Shannon

*Honarary Members

If you would like information on how to become a member of S.T.A.C.S.
please write to Citizen Dave c/oTrooperPX.

Images of the S.T.A.C.S. "membership kit" will be avaliable in the future.

"Starship Troopers Accumulation Compulsion Syndrome"
and "S.T.A.C.S." Copyright 1999~2003, David Ramsay
---
The following, is a paid advertisement, and does not necessarily reflect the views of TrooperPX:

You may now begin the official Mobile Infantry Enlistment process. Recite the following Official Oath out loud, speaking clearly. Preferably this should be done in the presence of a witness, and ideally one who is either already enlisted in the Mobile Infantry or has plans to do so:



THE TERRAN FEDERATION OATH

"I, state your full name, of my own free will, without promise, coercion, or inducement, after having been duly advised and warned of the meaning and consequences of this oath, do now enroll in the Federal Service of the Terran Federation for not less than two years and as much longer as may be required by the needs of the Service.

I swear to uphold and defend the Constitution of the Federation against all its enemies on or off Terra, to protect and defend the Constitutional liberties and privileges of all citizens and lawful residents of the Federation, its associate states and territories, to perform, on or off Terra, such duties of any lawful nature as may be assigned to me by lawful direct or delegated authority.

-And to obey all lawful orders of the Commander-in-Chief of the Terran Service and of all officers or delegated persons placed over me.

-And to require such obedience from all members of the Service or other persons or non-human beings lawfully placed under my orders.

-And, on being honorably discharged at the completion of my full term of active service or upon being placed on inactive retired status after having completed such full term, to carry out all duties and obligations and to enjoy all privileges of Federation citizenship including but not limited to the duty, obligation and privilege of exercising sovereign franchise for the rest of my natural life unless stripped of my honor by verdict, finally sustained, of court of my sovereign peers."


... Thank you for playing. Please take a seat and have your #2 pencils out and ready.
Copyright © 1998~2003 David Ramsay, All rights reserved.
All other trademarks and copyrights are the property of their respective owners.

All rights reserved.
No infringement is intended or desired.
No images may be captured, copied, reproduced or used without permission.
All images and information contained herein are Copyright their respective owners.
The contents of these pages, is Copyrighted by TrooperPX, as an artistic expression.
This is fan web-site and is intended solely to promote everything Starship Troopers.